Ricardo Douglas da Silva
---
English to Brazilian Portuguese Translator
Hello! I'm Ricardo, ENG to PT-BR freelance translator specialized in video-games localization.
I have been working in this field for over three years, and I absolutely love what I do.

I started playing video-games when I was 6 years old, and it quickly became my favorite thing in the world.
From Atari to modern consoles, I've played them all.
I also developed a similar passion for languages. It fascinated me as much as video-games did.
So I naturally became a video-games translator.

As I grew up, a desire was taking shape in my heart. A mission.
I wanted every gamer to enjoy all of those wonderful worlds which dragged me away, day after day.

Developers devote their heart, soul, mind, blood, sweat, and tears to get those amazing stories to come to life.
I admire them so much.
And in my country, only 5% of the population has some knowledge of English. It is not fair. We have so many passionate gamers, they deserve to fully enjoy all those wonderful creations.

I'm here to build that connection, to make sure they understand your game, your passionate work.
All my work is 100% human-made.

It means the translation/localization will always MAKE SENSE and be accurate inside the context.

No machine translations, no literal translations.

I work fast.

My rates are flexible and negotiable.

Depending on the project size or if there's more than one project, I'm sure we will find a perfect agreement.

I love games, I love working with them, it's what matters the most.

I have experience in video games localization.

I've worked on many genres, on every platform.

From PC to console to mobile, I've got you covered.

Playing your game is an essential part of the localization process.

After I finish translating your script, menus, interface, etc. I will ask you to implement them into the game and I will play it at least two more times, from beginning to end, to make sure no typos or grammar mistakes will slip off and everything fits perfectly on the context.
Now please take a look at some of my previous works:
And I am currently working on:
A few words from my clients:
Scarecrow Arts, about The Story Goes On proofreading and partial localization: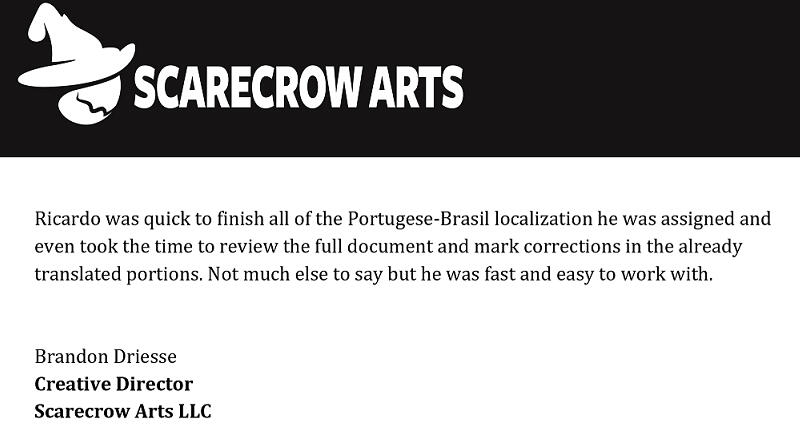 Klapannome, about Sunset Road localization:

Stuck In Attic, about Gibbous: A Cthulhu Adventure localization: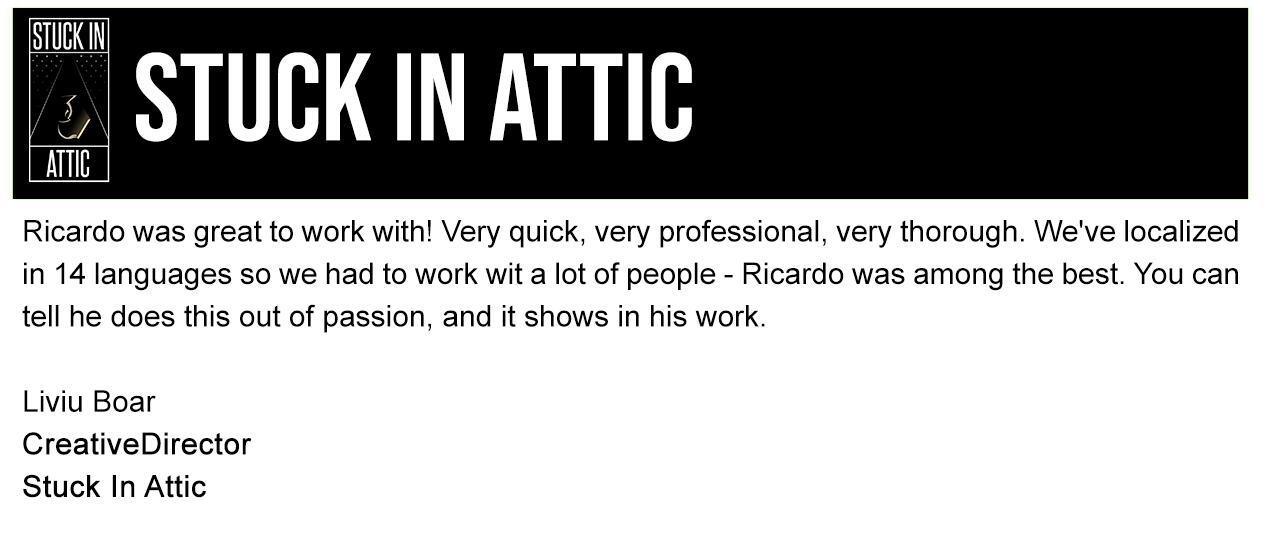 Hitcents Publisher, about Ministry of Broadcast localization:

Beardybirds, about Star Jolt localization:
Beardybird
"Ricardo is fast, attentive and a joy to work with. Ricardo understood our particular needs for copy flavour and surpassed our expectations by e.g. translating our rhyming content with maintained rhymes, something we didn't even specify. From an implementation perspective Ricardo kept all special symbols intact which made adding the translation to Star Jolt a breeze." /Erik Hallgren, Beardybird
Thank you very much!!!
Please feel free to contact me!